You are here
Ken Brown & Elizabeth Sanjuan
Creating a Legacy
They've been covered in dirt and paint.  They've chaired committees, sold tickets, wrapped auction baskets and handed out diplomas to graduating 5 year old preschoolers and led fundraisers for those same children during the holidays. They have opened their hearts and their home for fundraisers and get-togethers.
They are Elizabeth Sanjuan and Ken Brown, Founding Members of Hispanic Unity's Amigos Legacy Society.  It began in 1982 when Elizabeth's mother, Maria Sanjuan, helped found Hispanic Unity of Florida. Today, their involvement with Hispanic Unity is a family affair. Three generations are involved, including their exceptional daughter, Lauren.
Ken and Elizabeth have donated to organizations throughout the world. They exemplify the new generation of hands-on philanthropists who make generous gifts – and also give of their time and talent.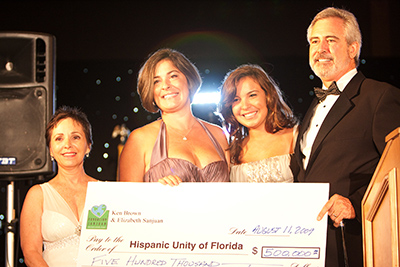 Individually, they give back in large and small ways. Elizabeth is the official photographer of the Unity 4Kids preschool and every month bakes homemade cupcakes for their birthday parties. She makes every party extra special by giving every child a gift: a gift card to a book store. Elizabeth also founded the
Todos Unidos (All United) Auxiliary Group and she and Cheryl Goldstein, another great HUF friend, founded the Miniature Golf Tournament a HUF fundraiser. She has Chaired and/or participated in a number of HUF event committees and can be counted on to be the most involved committee member.
Ken Brown is an advisor to the CEO and serves on both the HUF Program and Finance Committees. He also uses his artistic talents to paint and has donated dozens of paintings to HUF for its event auctions. Ken also has generously offered match gifts for the Unity 4Kids program helping the agency double or quadruple the gifts of other generous donors.
Ken and Elizabeth consider themselves part of the Hispanic Unity family. Ken shared why he and Elizabeth made their $500,000 gift to Hispanic Unity: "This organization has it all. Above all, they have a powerful mission. It is well run.  It is financially sound.  They are lean administratively.  And they are passionate about what they do.   We know that our gift will make a difference."  Elizabeth adds, "I regularly meet the people who are touched by the work of the agency and it makes me proud to be involved with this organization. I love what they do and what they stand for."
Hispanic Unity of Florida is privileged to be the recipient of Ken Brown and Elizabeth Sanjuan's philanthropy. Their generosity allowed HUF to complete Hispanic Unity's education center which was renamed in their honor to Casa Sanjuan Education Center. Their gift also funds the Unity 4Kids preschool and the Center for Working Families program.