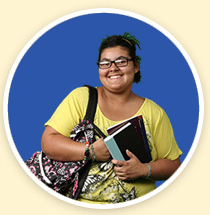 Lauren is 16 years old, she's in 11th grade and is being raised by her dad since her mom's death in 2010. She is part of Hispanic Unity's Unity 4Teens program funded by the Children's Services Council of Broward County. Were it not for this program, her life would be much different. 
The Children's Services Council of Broward County invests more than $60 Million annually on our children in Broward County!
In 2012/2013 the Children's Services Council of Broward County supported nearly 100,000 children through 153 programs by 87 organizations plus 40 school-based health programs.  
The Children's Services of Broward County (CSC) is an independent taxing authority established by Broward County voters in 2000. Since its creation, the Children's Services Council has touched the lives of thousands of children in our community – every year.
The CSC's mission is to provide leadership, advocacy and resources necessary to enhance the lives of the children of Broward County and empower them to become responsible, productive adults.
The organization funds hundreds of programs that serve children and families, advocates for policies that protect the interests of future generations and provides leadership that brings the child-serving community together.
The CSC works with Community Partners to help "Turn the Curve" in a positive direction on issues like:
•             Maternal and Child Health
•             Family Strengthening
•             After-School and Out-of-School Time
•             Kinship Care
•             Youth Leadership, Advocacy and Employment
•             Support for Youth and Families with Special Needs
To learn more about the work of CSC visit them on their website!