Mayra Gonzalez's cancer is stage 4, but she has no intention of giving up. This story is about a courageous single mother fighting for her life. She also is fighting to live for her daughter Julissa who is part of Hispanic Unity's Unity 4Teens Program.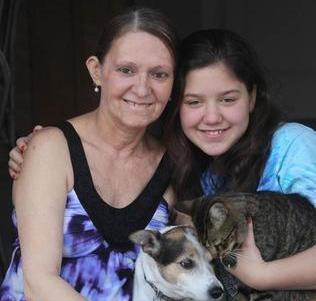 Miami Herald Story - 2013 WishBook  BY BRITTNY C. VALDES BVALDES@MIAMIHERALD.COM
Having just learned in class about the symptoms of lung cancer, Julissa Gonzalez rushed home from school in a panic.
The symptoms described exactly how her mother had been feeling recently.
"They started with smoking, then they started talking about the lung cancer, and I just got the sensation in my body," said Julissa, 12, who had been hearing her mother complain for weeks about pains in her back. "When I came home, I came running to mom telling her to go to the hospital."
That June night, Julissa and her mother, Mayra Gonzalez, 56, drove to Memorial Regional Hospital, where doctors found a mass the size of a golf ball in Gonzalez's right lung.
It was stage 4, and it had already metastasized to her ribs and lymph nodes.
"When we came home, we laid in the bed and cried," said Gonzalez, a single mother who lost her.  Read More. 
Thank you to the WishBook Angels Mayra has four new tires and Julissa a new laptop. Thank YOU! 
HOW TO HELP 
The Miami Herald's Wish Book is trying to help hundreds of families in need this year.
To donate, pay securely at MiamiHerald.com/wishbook.
To give via your mobile phone, text WISH to 41444.
For information, call 305-376-2906 or email wishbook@MiamiHerald.com.
Most requested items: Laptops for school, furniture, bicycles, accessible vans.
Read more at MiamiHerald.com/wishbook.